Chevelle Version 3.0
2020 has been a wild year for everybody. No need to go into details there, we all know them. One positive thing that has come along with no car shows has been more time at home. You see, normally we are gone most the summer attending and covering different events for y'all. This summer everything is cancelled, leaving us at home with an irresistible itch for cars.
How do we scratch that itch? Well that was easy, we hopped in the garage and started looking around. One project we have is my personal 1966 Chevelle. Now you see I've owned this car since I was 15 years old! The Chevelle originally sported a blue paint job, a 454 under the hood and a 4 speed behind it. Quite the car to cruise to high school in.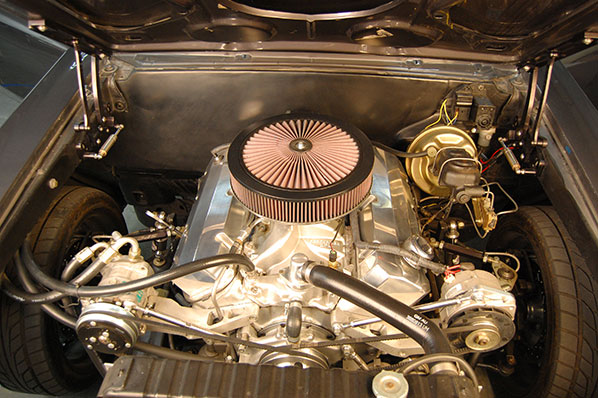 Naturally I restored the car with all new paint, interior, moldings, suspension, etc. The car even went to SEMA and was shot for Chevy High Performance in this trim. But then with the car "finished" I got bored and decided to swap in an LS, which y'all might remember from four years ago when I built that LS3 on Lateral-G and then took the car on Power Tour 2016.
Engine Swap Woes
Truth be told the car was slammed together but magically we had zero issues on Power Tour. We even drove it up to LS Fest West that same year. Something wasn't quite right with the engine though. Every now and then it would make a noise. It burned more oil than it should. Things weren't quite right. In my mind, I knew that and subconsciously I never wanted to drive the car because of that. With life in the way though I didn't want to tear the car apart and have it sitting there for years and not be able to drive it. The whole thing was a vicious cycle that meant over the last 4 years I probably drove the car only a few hundred miles.
With 2020 hitting us hard and forcing me to be at home, I decided the time had come to change that and fix my Chevelle. The first step was I started a list of all the little things on the car that needed to be adjusted, replaced, or reworked. To recap this will be basically the third time of going through this car. First time was when I originally restored it, then redid almost the entire car for Power Tour 2016. Now it's time for the third and hopefully final redo for a long time.
The Bad News
The first thing to address was the engine. This little bored and stroked LS3 ran amazing but with it consuming oil and making some weird noises we took the jump and yanked it out of the car. We then sent it off to Pro Touring Texas for a full tear down to determine the damage. While the engine out we sent off the transmission to American Powertrain for a full rebuild. The transmission was out of a 1999 Camaro and while it worked, it didn't shift the best the smoothest anymore. We figured before something really bad happened we would just take the time and have American Powertrain take a look at it and refresh it for trouble free cruising.
My original hope was the engine would need a re-ring and should be good to go. The guys at Pro Touring Texas quickly determined that wasn't going to be the case though. Turns out there was a multitude of problems going on with the engine to the point they were surprised it was still running!
First off I unknowingly installed the wrong set of rocker arms which was causing heavy side load on the valves. This wiped out the guides and seals, most likely causing my oil consumption issues. Then there was some issues with the ring pack, which ended up scoring the cylinder walls pretty badly. What it all boiled down to was the engine was done and I need a new power plant under the hood.
For now I'm going to sign off – but I wanted to let you know what I'm up to and that I have some big plans for this Chevelle in 2020 to whip it back into shape! Keep checking back for more updates.