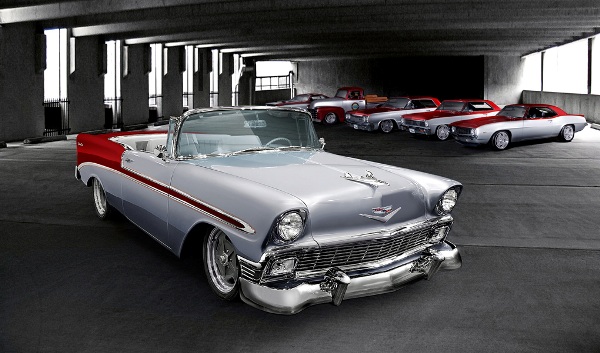 This weeks podcast is out and it is packed with a lot of great stuff. Rob got the chance to attend the SEMA MPMC Media Trade Conference where he got to sit down and talk to aftermarket manufacturers about exciting upcoming products. He interviewed Ray Yeager and Ed Navarro from Classic Industries and Original Equipment Reproduction (OER). You may know them from the show Chop Cut Rebuild where they just finished building an all new 1956 Chevy convertible featuring a brand new body, General Motors LSA e-Rod supercharged V8, and an Art Morrison chassis.
Another great interview was with Mark Lewis of Hedman Hedders. Mark informed Rob about the line of LS swap products, and not just headers that Hedman produces. The start with polyurethane motor mounts specific to LS engines and designed to replace the original mounts in muscle cars without modifications. Hedman finishes up the swap kit with LS specific headers for those same classic vehicles. One interesting tidbit that was brought up is that they make LS swap kits to go into Fox body Mustangs also, and they are pretty popular.
The last manufacturer, but certainly not the least, was Superchips. Jim McGinn talked about programmers coming out soon and discussed many of the new features that are coming in the new kits. Some of those features are heads up display functions, code reader, and of course performance and economy tuning. One very interesting product coming soon is the Android based, bluetooth, Flash Paq Linq. You can turn your cell phone or tablet into a programmer.
Listen to the whole interview and get the links to the websites at:
http://www.themusclecarplace.com/tmc…erchips-tuners